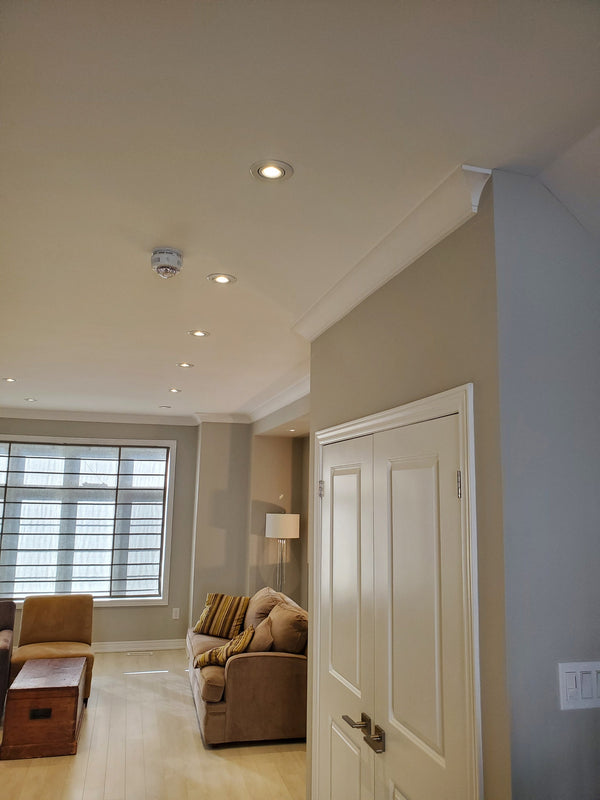 7 BENEFITS OF CROWN MOULDING
Crown molding comes with a range of benefits that make it a perfect addition to a home. Some of these benefits include:
Increased home value: 

When done right, crown moulding finishes off a room and adds a bit of interest. The result is a stylized and elegant look that also adds value to your home. Choose a crown molding that matches the style of your home — ornate styles go with traditional homes while modern styles require molding with clean lines.

Eliminating wall and ceiling irregularities: 

Since you install crown moulding where the wall and ceiling meet, you can cover small inconsistencies. The flexibility of crown molding allows you to slightly bend the material to reach from corner to corner of a room if the ceiling is uneven. Crown moulding also covers up texture and paint irregularities, giving your home a refined appearance. This benefit of crown moulding helps increase home value or create a polished space for you to enjoy.

Covering cracks where ceiling and walls meet in old homes: 

Similar to covering irregularities, crown moulding can cover up minor cracks, especially in older homes. While crown moulding is commonly used for decoration as well, it is still a cost-effective option to camouflage cracks between your ceiling and wall.

Range of styles to fit your home and taste: 

You may imagine ornate crown moulding decorating the walls of classy, elegant and vintage homes, but modern homes can benefit from crown molding, as well. You can then paint these varieties to match your personality and your home. Experiment with different styles in different rooms depending on their purpose, and play around with color to create your unique space. Install varying types of crown molding in different areas, as well, from your mantel to bookshelves.

Furnishing the walls in rooms with high ceilings: 

High ceilings make an area feel more open, but sometimes all that space feels blank. Crown moulding adds interest to the highest part of the wall to draw the eyes upward. Because higher ceilings have more blank space than lower ones, you can use wider versions of crown molding. High ceilings often have an elegant feeling to them, so adding detailed crown moulding will only reinforce that idea in your home. Make your grand space feel even more magnificent with the simple addition of crown moulding.

Numerous widths to work for any room type, shape or size: 

Just because you have lower ceilings does not mean you must compromise on stylish additions to a room. Opt for smaller widths to suit your low ceilings. The crown moulding will not make your room appear smaller with the right choice of trim. You can paint the crown moulding a light color or the same color as your wall or ceiling to make space feel larger. You can also find crown moulding for rooms that are not perfectly square — whether the walls curve or have many corners.

Providing an elegant touch to finish a room: 

No matter the style of crown moulding you choose, it will enhance a space. Crown moulding shows attention to detail and care for your home. The historical use of crown moulding carries with it a history of elegance, making crown moulding a symbol of opulence. Polish off a room with a simple addition of crown moulding and impress visitors or buyers of your home. If your room feels like it's missing something, the answer may be crown moulding.