1. Baseboards & Shoes
Baseboards are one of the last items people consider when making renovations, even though they are an easy way to create a dramatic look for any newly finished room. Large baseboards alone can make a room feel customized and modern. Our baseboard designs are fully primed so that means less painting for you after installation. We also have stops and shoes to go with your baseboards, designed to cover any gaps between the baseboard and the floor.
2. Casing & Headers
We offer a wide variety of door and window casing to suit your needs, including headers. These products add the same elegant, polished look to your doorways as crown moulding products do to your walls. We have several beautiful designs and styles to choose from.
3. Chair Rails & Panel Moulding
A stunning finishing touch to any crown moulding, baseboard, and casing installation, chair rails are a simple addition to any project that create a separation of your wall. In most cases chair rails sit at 36" to 46" from the floor and can be used to top any wainscoting project or left plain as a simple accent. From simple beveled white designs to chair rails with intricate details, we offer options to match any home's décor.
Panel Moulding has many different uses but is most often used on walls to create architectural designs.  You can use it to create "boxes" or "frames" on your walls otherwise known as applique wainscoting.  You can also use in on ceilings as an accent.  
Visit our products pages here to view our trim profiles.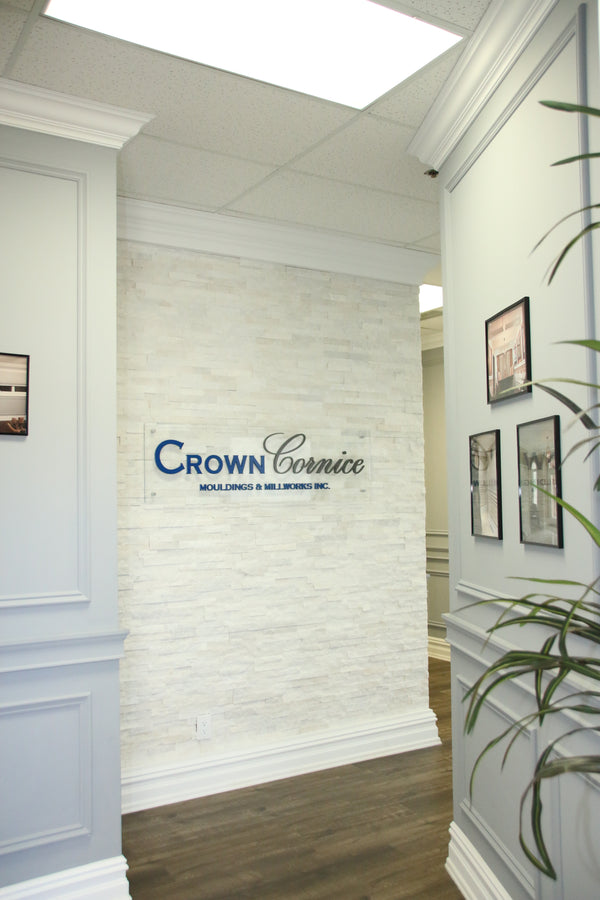 Discover the CrownCornice Difference
_
Visit our showroom to get a feel of the products and services we offer. We can help you select the perfect window treatments, interior trim, doors or decorative wall panels to match your style and needs.