At Crown Cornice Mouldings & Millworks Inc., we can fully install waffle ceilings in one day. Why not add a waffle ceiling and take your room to the next level? Transforming a room from bland to bold, they make a statement that gets everyone's attention. It adds a luxurious elegance to any room while being an affordable option that's built to last. It used to be that waffles ceilings were only found in formal dining rooms, libraries, and dens, but today, any room can be enhanced with this type of design. Today's homeowners are making an architectural statement in each area of their home, with décor, paint, and/ or a ceiling treatment.
Our interior design experts take utmost care with each project in both the design and building stage. By request, Crown Cornice Mouldings & Millworks Inc. designs your ceiling with 3D rendering so you can see firsthand what to expect throughout the installation process and for the results. From simple to complex, we treat every design with equal importance and attention to detail.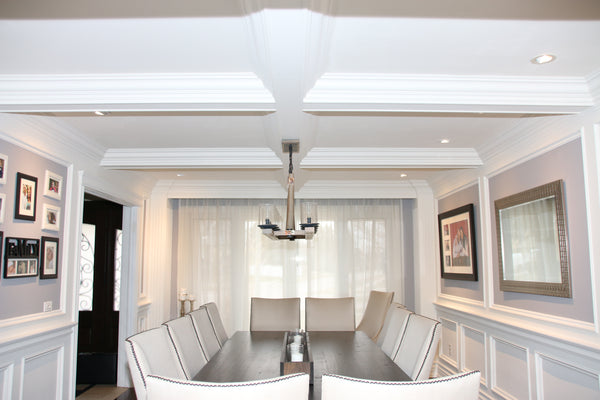 Transform your space with a custom waffle ceiling design tailored to suit your taste and style. Elevate the look of any room in your home with this
stunning feature that adds depth, texture and character. With our expertise, we can create a unique waffle ceiling that complements the architecture of your space and creates an unforgettable focal point. Trust us to deliver exceptional quality and craftsmanship that will leave you feeling proud every time you walk into your home. Let's bring your vision to life today!